Owner, operator, pilot-of-command, and chief mechanic of Honey-Mooney HB-DVN since 1978.
Born 1945 in Elling Denmark. Degree in electronic engineering (telecommunication, information technology and automatic control) from the Technical University of Denmark in January 1969. Worked for Danish IT private company February 69 to September 72. Working at CERN, Geneva, Switzerland since October 1972, specializing in various aspects of high energy accelerators: low level RF systems and associated feedback systems, longitudinal beam dynamics, production, cooling and storage of antiprotons. One year sabbatical stay at Brookhaven National Laboratory 1977/78, and at Stanford Linear Accelerator Center 1991/92. 7 months leave from CERN November 2001 to May 2002 to realize yet another flying dream: fly around the world in his faithful Honey-Mooney bird.
Started his aviation career in 1965 at the gliding club in Kaldred, Denmark associated with the Danish Technical University: 'Polyteknisk Flyvegruppe', but had to stop short of getting the license due to other priorities. Got his FAA private pilot license at Islip McArthur airport, Long Island, USA in January 1978. Acquired his Mooney M20E (1965 model), in July 1978 and have since accumulated more than 3000 hours in this aircraft. Favorite destinations are Corsica, Denmark and UK mixed with numerous long range trips outside Europe.
FAA commercial and instrument rating in October 1980. Swiss FOCA commercial and instrument rating in June 1981. Swiss Aircraft Mechanics License in 1982 allowing own maintenance of IFR aircraft. French Mountain license in September 1982 permitting the use of French altiports, which are designated, very short and steep (15-20%) airfields located high in the French alps. Accumlated 3200 flying hours at the time of writing, mostly in his own Mooney.
Since 1981 he has made numerous long-range trips in his Mooney:
1981/82: Kenya via Egypt and Sudan
Canary islands (numerous trips)
1986: North Cape, Norway
1988/89: Kenya and Tanzania via Egypt, Red Sea, and Djibouti with Angela. This was their honeymoon, and gave the opportunity to baptize the bird 'Honey Mooney'.
1990/91: Cape Verde islands and Senegal
1991/92: California via Iceland, Greenland and Labrador (W-bound) and St. Johns, Newfoundland to Azores (E-bound). Side trips to Baja California and Vancouver, Canada
1996/1997: Brazil. 75 years memorial flight celebrating Gago Coutinho and Sacadouro Cabral's first heroic crossing of the South Atlantic via Cape Verde Islands, Fernando de Noronha, Recife and Rio de Janeiro.
1998/99: Another 6 week trip to Kenya and Tanzania via the Red Sea: Commemorating our honeymoon in 1988.
2000: Oshkosh Wisconsin, USA via Iceland, Greenland, Labrador (W-bound) and St. Johns, Newfoundland to Azores (E-bound). Participated in first Earthrounders meeting in Oshkosh and 3rd annual Mooney Caravan 2000 into Oshkosh
2001/2002: 7 month trip around the world Eastbound. It is believed to be the first time a Danish citizen pilots an aircraft around the world
Born 1950 in Amersham, UK. Left England at the age of 18 and has since lived in Switzerland, Spain, Greece, France, and Brazil, returning to Switzerland in 1984. Up to 1984, she had various jobs including with travel agencies as a ski rep in the Alps and Pyrenees, tour guide in Crete and group tours manager in Rio de Janeiro. During her last two years in Brazil she ran a shop selling handicrafts to tourists on an island near Rio. Since 1984 she has been working for the International Organization for Migration in Geneva, and has been doing desktop publishing for the Organization since her return from a year in California in 1992. Met Flemming in January 1986, and has since been occupying the co-pilot's seat of Honey-Mooney on numerous trips inside and outside Europe. While in California she wrote a whodunit set on the island in Brazil, which she still hopes to publish. Wrote aviation magazine articles about Honey-Mooney's trip to California in 1991/92. Has written the majority of these Round the World 2001/2002 web pages.
Took flying lessons in Geneva in 1988 before leaving on the honeymoon to Kenya, but wasn't sufficiently keen to follow this up when she had the chance in California. Prefers travelling to flying!
Born 1932 in Dunedin, New Zealand. Got his Masters Degree in physics from Otago University in 1957, and his Ph. D. in Physics from Australian National University, Canberra in 1963. Went to work for CEA (Cambridge Electron Accelerator), an accelerator laboratory in Massachusetts, United States from 1963 to 1968. Came to CERN, Geneva, Switzerland in 1968, where he worked in various fields of accelerator physics and hardware until he retired in 1996. Since then he has been enjoying eternal summers by making bi-annual commutes between Waiheke Island, Auckland, New Zealand and Annecy, France.
Ray started his aviation career in Dunedin, New Zealand with the CMT scheme in the 50's, where he learned to fly in Tiger Moths and accumulated about 70 flying hours at that time. He has been a frequent flyer with Honey-Mooney since 1979 and been on numerous trips to Corsica, Greece, North Cape Norway, and Oshkosh Wisconsin.
Got his FAA private pilot license in January 1993 in preparation for his forthcoming retirement. New Zealand private pilot license since 1995. Flew around New Zealand in 1994/95 in a rented Cherokee 180. Bought his own Cherokee 180 in 1996, which he operates from Waiheke Island, New Zealand. Went with Honey Mooney to Oshkosh Wisconsin summer 2000 via Iceland, Greenland and Labrador (W-bound) and Azores (E-bound). Copilot half way around the world (Geneva to Auckland) with Honey Mooney in 2001/2002.
Click on image to enlarge, click browser back to return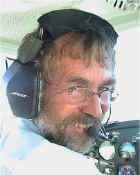 Flemming on board his favorite Honey-Mooney bird over the Italian alps 29 October 2001: The big trip has started!